Cobwebs. They are actually spiderwebs with an implication of dustiness and disuse. Abandoned spiderwebs, perhaps. You are supposed to get rid of them since their presence in your home is clearly a sign of poor housekeeping.
Yet these structures, even when sooty, torn and sagging, are a miracle of meticulous construction. No other creature can produce this phenomenon: create art using materials from its own body. When new, they shimmer in the slant of a sunbeam. They are beautiful but cunningly constructed to kill. A filigreed slaughterhouse, an abattoir disguised as a fairy castle.
In science fiction people sometimes dress in clothes made of spider silk which are always described as soft and incredibly light.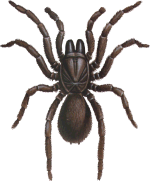 Spiders evoke fear in a lot of people though only a few of them are poisonous. They creep around on eight spindly legs, have multiple eyes and disproportionately fat bodies. These are features which many humans find revolting.
On the positive side there is Spiderman who is feared only by those who've gone over to the dark side. Then there is Anansi, the spider god of Africa and the Carribbean. As with Coyote and other trickster characters, he is both clever and foolish, cunning and inept. Even more compelling is Charlotte, the literary archetype of friendship and abiding loyalty, created by E.B. White. She uses her web-spinning ability to save the life of a sentient pig.
Quite frankly, I find it sad and rather hypocritical that the very children who cried their eyes out when Charlotte died grow up to commit multiple homicides against harmless household spiders.
I, for one, do not kill spiders. If necessary I transport them carefully to the great outdoors. In the days when I was teaching, both my students and my coworkers knew to alert me whenever a spider appeared in the classroom whereupon I would gently and humanely remove it from their arachnophobic presence.
In my own home, I never destroy an occupied web. Why should I? Spiders catch flies more efficiently than I can running around with a fly swatter or a rolled newspaper. "What if it's a black widow or a recluse spider?" you ask. I have never come across either of those indoors but, if I did, I suppose I would have to kill them. Yet, I would not do so gladly. I mean, it's not their fault they carry around sacks of poison. I believe it is only human beings who deliberately chose to be lethal.
It is almost Halloween when good housekeepers will sweep away the authentic cobwebs and replace them with fabricated replicas containing synthetic spiders. Some of these fake arachnids will move up and down when you clap your hands. Others are constructed to crawl across the floor while their ominous-looking eyes blink red like live coals garnered from the depths of hell.
Elderly retirees such as myself sometimes imagine their once orderly, spic and span brains now cluttered with cobwebs. Old knowledge is obscured, new knowledge confounded. Thoughts no longer speed along a well-lit road but fumble and grope through a gauzy wilderness Cobwebs, though, can be soft as mist and ticklish as fox tails. Perhaps senility occurs that way at times.